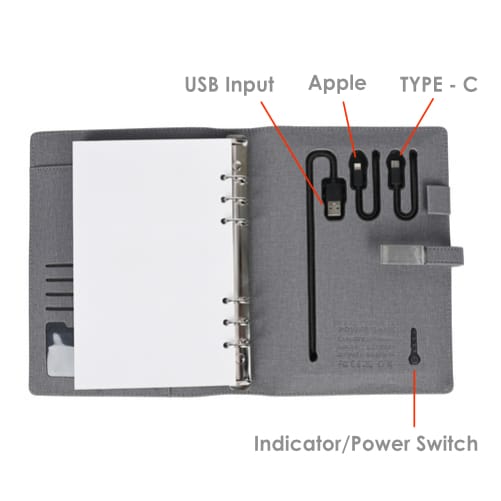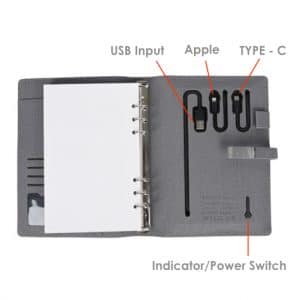 Product Specifications
Power Bank Capacity: 5000 mAh
Battery Type: Lithium Polymer
Input: DC 5V/2.0A
Output: DC 5V/2.1A
Output Port: Apple Lighting Cable ( iPhone & iPad ), Type C ( Andriod )
Diary Cover Material: Jute
Diary Cover Color: Grey
Product Dimensions : 25 x 20.7 x 3.8 cm
Product Weight: 825 gm
Country of Origin: India

An amazing gifting option for the tech-savvy 
It's a fully functional power bank hiding neatly on the back of a notebook.
Very stylish, sleek, and lightweight accessory which also keeps your devices powered
Notebook pages can be replaced after they are full

Feeling Stuck? Don't you worry, help is around
Designing & Customization Issues: How to Customize
Amazingly low prices applicable for Bulk Orders: Fill this form
or contact us on WhatsApp 73373 66555
General Help: Help Center
Customization Area is up to 20×15 cm on the front.
Prices Include Product + Customization + GST @18% + Shipping
Customization will be done using Printing